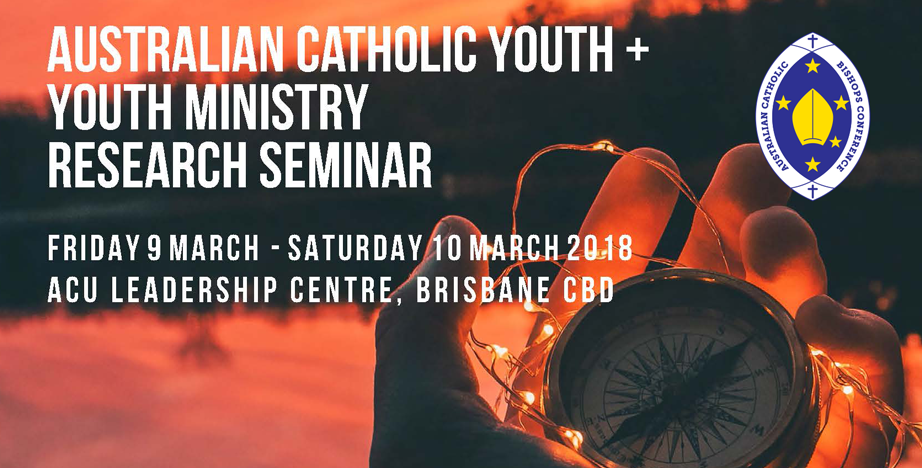 Australian Catholic Youth & Youth Ministry Research Seminar

This two-day seminar brings together leading Australian researchers and youth ministers to explore current understandings and research for ongoing youth evangelization. It will gather researchers, sociologists, theologians, teachers, clergy and youth ministry practitioners from across the country to inform the practice of youth ministry with recent research and analysis.
Date:

Friday, March 9th – Saturday, March 10th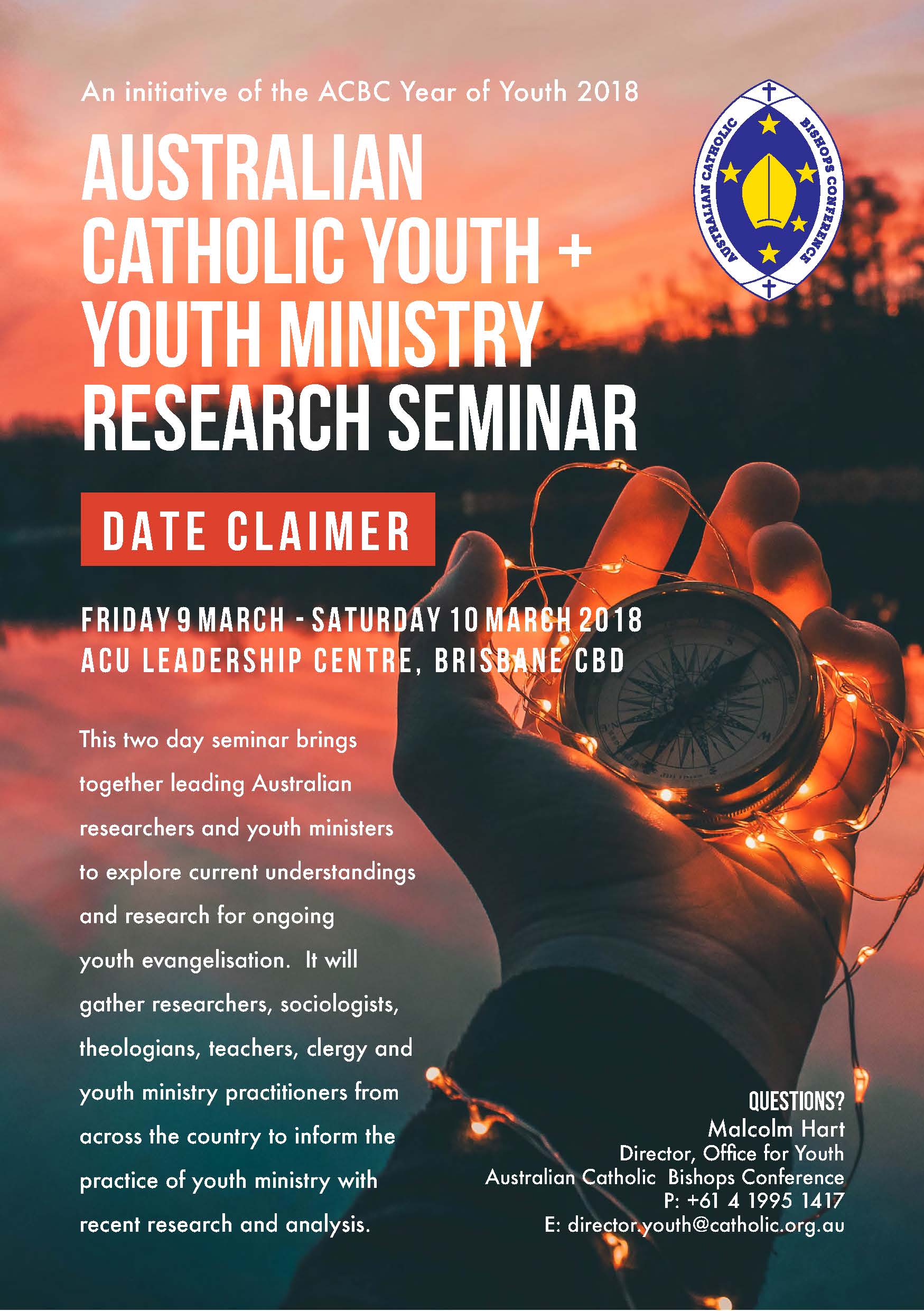 Host: Australian Catholic Bishops Conference

Hosting Diocese: Archdiocese of Brisbane

Hosting Partner: Australian Catholic University

Location: ACU Leadership Centre, Brisbane
Level 3, Cathedral House, 299 Elizabeth St, Brisbane


Costs:
Full (2day): $100

Friday Only $70

Saturday Only $40


Registration:
https://www.trybooking.com/THMW
Registration EXTENDED
Now closes on Friday March 2nd

Emcees: Malcolm Hart - Director, ACBC Office for Youth
Teresa McGrath - Youth Project Consultant, Youth Evangelisation Brisbane

Partners: Pastoral Research Office (ACBC)
Australian Catholic Youth Festival
St Mary's Press
BBI - TAITE
Missionaries of God's Love

Download and share the date claimer in your networks
Program

Friday 9th March
NB: - Mass - The Cathedral of St Stephen, next to the ACUC Leadership Centre, holds regular daily masses. Attendees can join either the 8 am or 5:10 pm mass either side of the seminar program.
8:30am

Registration

9:00 am

Welcome and Opening Prayer


9:15 am

Exploring Research and Youth Ministry

· Youth Ministers as Practical Theologians
Youth ministers have a wealth of experience and when processed properly it has important insights for theological and pastoral reflection for the Church
Fr Chris Ryan, Missionaries of God's Love

· The Impact of Research on Local Ministry
Youth ministers can draw important insights from keeping abreast of current research and trends, but also by identifying, collating and analysing data themselves.
Teresa McGrath – Archdiocese of Brisbane

10:05 am

Keynote: The Presence and Voice of Young Catholics in Australia

Part I: An overview of the 2011 and 2016 Australian Census Data & National Church Life Survey (NCLS)
Stephen Reid - ACBC Pastoral Research Office

10:55 am

Morning Tea

11:20 am

Keynote: The Presence and Voice of Young Catholics in Australia

Part II: An overview and insights of the Australian Bishops Youth Survey 2017
Dr Trudy Dantis, Director ACBC Pastoral Research Office

12:15 pm

Lunch Group Sharing and Exploration

1:30 pm

Workshops
1. Young People in Catholic Schools - Prof Richard Rymarz
2. Effective Parishes and Youth People – Dr Trudy Dantis
3. Youth Ministry Leadership in an Uncertain Future - Graham Stanton
4. Towards a Positive Psychology of Indigenous Children, Youth and Community Thriving - Profs Rhonda Craven & Janet Mooney (ACU)

2:40 pm

Coffee Break

3:00 pm

Keynote: Going Going Gone:The Dynamics of Disaffiliation of Young Catholic

Going, Going, Gone is the unprecedented report on why young people leave the Catholic Church based on the comprehensive national study conducted by the Center for Applied Research in the Apostolate at Georgetown and Saint Mary's Press. This report uniquely offers compelling and sometimes difficult insights into the reasons young people are leaving the Catholic Church and religion in general.
John Vitek, President and CEO, St Mary's Press

4:30 pm

Discussion: Listening and Responding to Research

A conversation between researchers, practitioners and attendees on how to best interpret and utilise research for local ministry
Panel: Dr Trudy Dantis, Teresa McGrath, Peter Bierer, Prof Richard Rymarz

5:00pm

Finish

6:00 pm

Optional Networking Dinner
Pre-dinner drinks from 5: 30 pm
Saturday 10th March
9:00 am

Welcome and Opening Prayer

9:10 am

Keynote: Catholic Youth Ministers Experience in Australia

During 2017 Prof Rymarz interviewed long-term youth ministers in Australia to develop a report on their experiences and the challenges and support in their roles.
Prof Richard Rymarz, BBI -TAITE


10:15 am

Morning Tea

10:45 am

Keynote: Youth Evangelisation in Australia

For the past 2 years, Fr Chris Ryan MGL has researched and prepared his PhD in youth evangelisation in Australia. Fr Chris will propose insights and opportunities for new directions in youth ministry
Fr Chris Ryan MGL

11:50 am

Discussion: Current Experiences and Future Opportunities

A conversation between researchers, practitioners and attendees on how to best interpret and utilise research for local ministry
Panel: Prof Richard Rymarz, Fr Chris Ryan, & Respondents

12:25 pm

Lunch

1:10 pm

Workshops
1. Exploring Australia's religiously dis-identifying young people – Stephen Reid
2. Listening to the Voices of Young People – Peter Bierer
3. After Generation Y: Young People, Spirituality and Secularity today - Fr Chris Ryan MGL

2:20 pm

Forum: Becoming Practical Theologians

A conversation between researchers, practitioners and attendees on possible future research opportunities and how these can be perused.
Panel: Mark Lysaght, Kelly Paget

2:50 pm

Thank and wrap up

3:00 pm

Finish