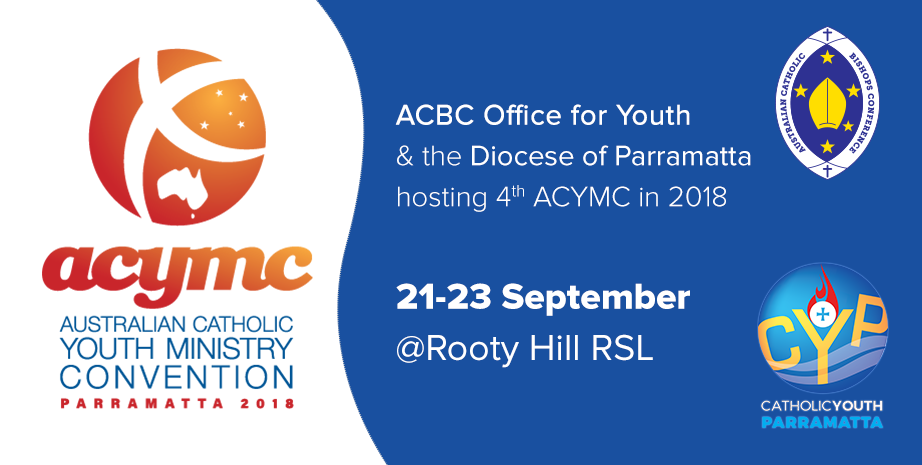 ---
For all the latest information on ACYMC Parramatta 2018, including registration, visit the official ACYMC 2018 website by clicking here.
---
ACYMC Parramatta 2018
ACYMC is expected to gather over 500 attendees from across Australia, who minister with young people in a variety of settings including parishes, schools, religious orders, communities, dioceses, universities and Church organisations. The event will share learnings from the Year of Youth in 2018 and prepare a future pathway for the diverse and growing needs of Catholic youth ministry in Australia.
"Hosting the Convention in Western Sydney provides a unique opportunity to tap into the rich diversity of our Diocese. I look forward to the opportunity to discern the vision and strategies required to reach young people in Australia. The feedback from the recent national youth survey has challenged us to address more confidently the issues of mental health, drugs, alcohol, relationships, and the digital world," Bishop Vincent said.
ACYMC will include elements of formation, retreat and a unique forum in which youth ministers can contribute to future national initiatives and support. The convention program and speakers will be announced in early 2018. See full press release here
Stay tuned for more details in 2018, or learn more about ACYMC below.
Contacts:
Malcolm Hart, Director ACBC Office for Youth James Camden, Director Catholic Youth Parramatta
E: director.youth@catholic.org.au E:jcamden@parra.catholic.org.au
P: 0419 951 417 P: 02 8838 3428

ACYMC History
In 2008 the Australian Catholic Bishops Conference (ACBC) hosted the Youth Leaders Gathering (YLG) to discuss and reflect on "Where to after World Youth Day 2008?' During the gathering, the Australian Catholic Youth Council (ACYC) invited participants to offer ideas and feedback on possible national events for the future. This feedback identified a need for a national youth ministry gathering aimed at young people, youth ministry workers and staff with a focus on networking and formation for participants.
In reflecting upon the outcomes of the YLG, the ACYC saw a need to develop a regular Australian Catholic Youth Ministry Convention (ACYMC) hosted by the ACBC. The convention focuses on the formation those engaged in ministry with young people including key youth and young adult leaders. It provides a key networking opportunity for those engage with young people across the entire Church life; Diocese, Schools, Movements, Communities, Universities, Religious Orders, Social Services, etc.
ACYMC's gather over 400 attendees and have previously been held in:
Melbourne 2010
Wollongong 2012
Adelaide 2014
The ACYC made the decision not to hold a Convention in 2016 due to WYD Krakow. The next ACYMC will be held in Parramatta 2018.
The ACYMC is the leading youth ministry formation and networking opportunity in Australia. All are invited to attend and finds out more about what is happening in youth ministry in Australia and how to work more collaboratively to bring about the Kingdom of God.
ACYMC Elements
The ACYMC is a dynamic gathering which seeks sot draw together, connect and inspire all those who support and minister with young people in the life of the Catholic Church in Australia. The ACYMC mandate consists of key elements which provide consistency and ongoing stability to the life of Australian Catholic Youth Ministry:
Theme: Each Convention can be given a theme to help focus speakers, participants and liturgies throughout the gathering. The ACYC has decided that each biennial theme will be that of the World Youth Day (WYD) theme for the year.
Keynote Address: Multiple addresses will be given during the Convention. Keynote Speakers are significant guests and/or Bishops who can address the theme through in-depth presentations and workshops. One or two significant keynote speakers are to be invited to the Convention.
Spiritual Formation: One or more opportunities for a high-quality teaching of the Catholic faith should be made available during the convention. Bishops are invited to give these sessions.
Workshops: Multiple workshop options are to be given during the Convention. Workshops are to be aimed at the varying target audience and need to be given by experienced and quality presenters. Workshops presenters are to be given a brief by the ACYC so as to ensure standards and focus of each workshop.
Dialogue Spaces: As part of the workshop listings, participants are to be invited to dialogue on particular topics as determined by the ACYC. This dialogue should occur in medium-sized groups (e.g. no more than 30), be run by an experienced discussion facilitator and have leaders in the area of discussion in attendance.
Liturgy: Appropriate and engaging liturgy is to be utilised on each day on the Convention. A Chapel space is to be provided at all times with mass available on each day.
Youth Ministry Expo: Time will be allotted during the program for participants to experience an expo/market place made up of a variety of organisations who support or resource youth ministry. Stallholders will be charged a nominal fee for the opportunity to participate.
The Expo should also provide space for 'graffiti boards' and other creative avenues for feedback from participants on topics of interest.
Networking: Time and purposeful strategies will be included in the program for networking time for participants to meet other Australian youth ministers.
ACYMC Resources
Previous ACYMC's have generated great resources for youth ministry in Australia. Below is a YouTube Playlist of previous ACYMC presentations.